One account for all Marketplaces.
We present you with a completely redesigned account on our Fantero.com site.
By adding all our stock sites together we decided to make a single account for all sections of the site. Now when you register or login to your profile you will have access to the purchase or sale of any files on our site.
Static profile menu
At the top of the site you will find a static and brief menu of your profile. On the left side there is a panel of data on the amount of your purchases and downloads, as well as the amount of money in your account and your current earnings. Clicking on any of the numbers brings you to the page with a more detailed description. On the right side is the user menu for quick access to the main points, such as: messages, account, upload, deposit, shopping cart, log out.
Seller
Upload
Uploading a file has become very simple. Uploading a file to any section of the site consists of 3 simple steps.
1 - Choose a marketplace
2 - Upload files
3 - Write description
(Inside each step there is a detailed description of loading the file)
If you made ​​a mistake when uploading a file, use the Back button to return to the previous step.
After reviewing your file by the moderator (within 2-7 days) you will get an email notification that your file is approved or rejected (with the reasons).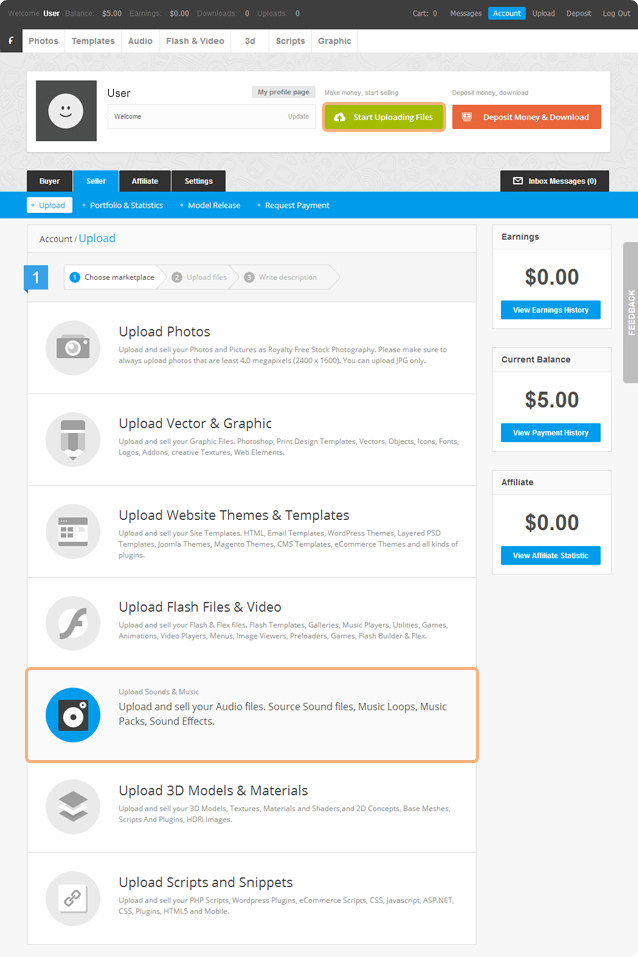 Section of menu
In this menu you can see all the statistics for your files, as follows: File status (approved, rejected, is waiting, etc.).
For viewing the sections of the site with your files you can take advantage of the filter.

---
Buyer
Deposit Money
Funding your account is very simple, in 3 steps, in any convenient manner for you (Credit Card, PayPal, Account Earning) Simply select the method of payment and click Deposit money.
Download section of the menu
Here you can see the number of files you downloaded, download date, the author of the file, cost of file, file ratings, as well as how much time is left for re downloading.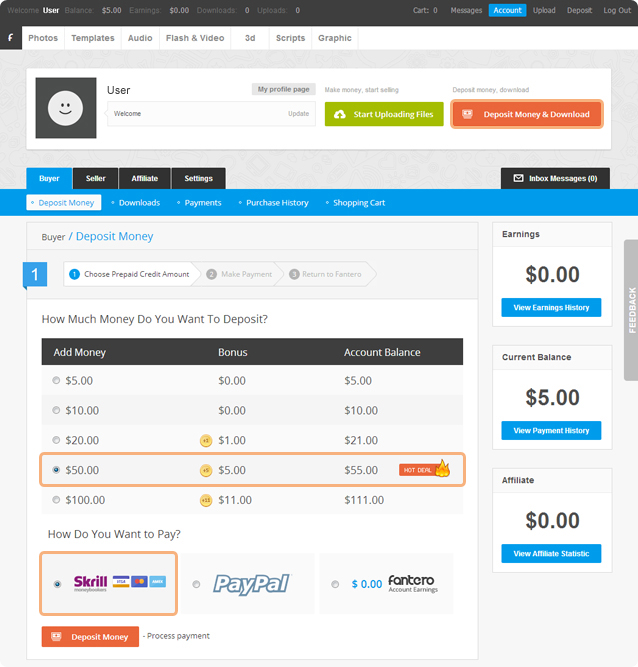 ---
Profile
To view your profile or your portfolio, you can either click the button
My profile Page or an Avatar.
To change the information on a profile you can use the link Update. By clicking on it you will go to the user menu where you can add or edit information about yourself, upload a new avatar, Sign up for our newsletter or delete your account.

Fantero Network Team continues to work on the account section, to improve it as well as the new sections.
We welcome your suggestions and comments on the Feedback form on our blog.
Have a great day!
From your Fantero Network Team.